Aita Päts
I was born under the sign of Sagittarius in the Chinese 'year of the monkey' in 1956. Both parents came to Sweden as war refugees from Estonia during the Second World War in 1944. I was initially brought up in Gothenburg, Sweden and then spent my early teenage years in Ucklum. I then studied to be a primary school teacher and was first posted at the Estonian School in Gothenburg. Drama and theatre were my special interests, and I had considerable satisfaction in involving my pupils.
After my marital divorce in 1982, I went on a world travel tour for one year, 'alone with my backpack'. Primitive cultures were of special interest to me.
With my second partner I had two children; my son Hannes, born in 1985 followed by a daughter, Kadri in 1987. I shared 16 years with my ex-husband and his two children from a previous marriage. The relationship ended in 1999 followed by a deep life crisis; living alone with two children, running my own business, a house and garden. All took their toll.
My business was started to trade with Estonia in 1989, following the collapse of the 'iron curtain', and was successfully built up over the following 14 years. The products made of natural materials and of my own design, were sold in my gift shop Estform on Drottninggatan, Gothenburg and through my wholesale company Trade Est Mölndal AB. Following many years of stress in running both home and business, I finally collapsed physically and mentally in the year 2000. I sold the shop and retained the wholesale company on a diminished basis until 2003, when that was also finally sold.
During these years I was working with 'finding myself' in a total chaos. I participated in three courses at Mullingstorp Health & Education Centre followed by personal therapy, physical therapy, acupuncture and other courses designed to rebuild my life. I also studied medical QiGong and TaiChi and have become a daily practitioner of these Chinese body and soul energy openers. My body and soul have gradually recovered through conscientious daily training.
My 'unconscious' and 'conscious' continued developing during eleven courses at the meditation centre Oshorisk in Denmark, where I spent one week per two months for almost two years undertaking therapist training. These courses were led by some of the world's foremost therapists.
The courses consisted of the following:
Pulsation
Body types
Primal
Conscious Relating
Tantra
Voice Dialogue
Awareness & Conditioning
Breath
Awareness Intensive
Counselling I, Inner man - Inner woman
Counselling II, Presence and Love
The combination of all the courses, the QiGong and TaiChi radically changed my perspective of myself and my relationship to other people and everything living on the Earth.
I now feel myself to be a small part of a bigger life picture and want to spend my future life sharing my knowledge and experiences with other people.
MA VEETMOHI
Ma Veetmohi is my Sannyas name. The name was received from an Indian clairvoyant. Ma is a female prefix and Veetmohi translates as 'beyond attachment'. I, Veetmohi, am an Osho Sannyas, which obliges me to lead a life of daily meditation and to live 'in my own truth'. Osho was an Indian mystic and spiritual leader for hundreds of thousands of truth-seekers. He lived from 1931 to 1990. His legacy to the world is an enormous library of books, audio cassettes and videotapes of his teachings and the renowned meditation centre in Poona, India, visited by tens of thousands of people every year. I have undertaken the almost two year long 'Therapist Training' course at Oshorisk, Denmark, the largest Osho centre in Northern Europe.
EDUCATION AND COURSES
1977 Teacher The University in Mölndal, Sweden
1980 20 p. in the Estonian language Lund University, Sweden
1993 Montessoripedagogics Folkuniversitetet in Göteborg, Sweden
2001-2002 Meet youself step 1, step 2, step 3 Mullingstorp Utbildning och Hälsa, Sweden
2002-2004 Osho Risk Therapist Training, Denmark
2004 Jichu Gong instructor Biyunskolan,Örbyhus, Sweden
2005 TCM Tuina - Chinese massage Biyunskolan, Oslo, Norway
2006 "Reminding yourself of the Forgotten Language of Talking to Your Body and Mind" training
Pune, India
2006 Certified Hypnotherapist, American Board of Hypnotherapy
2006 Certificate in Spiritual Healing for Eva Lund, Göteborg, Sweden
2007 Hut warden course SwedishTuristorganisation, Sweden
2007 FAR (Physical Activity on Recepy ) leader SISU idrottsutbildarna, Stockholm
2007 TCM Handzonetherapy Biyunskolan, Oslo, Norway
2007 TCM Eardiagnostic and treatment Biyunskolan, Örbyhus, Sweden
2007 TCM Herbal medicin Biyunskolan ,Örbyhus, Sweden
2007 Certifierad therapist in Traditional Chinese Medicin, China Academy of Chinese
Medical Sciences, Beijing China
2007 Childrens´ Qi Gong instructor Biyunskolan ,Örbyhus, Sweden
2007 Dong Gong instructor Biyunskolan, Örbyhus, Sweden
2007 Diploma in Energy Reading 3 courses for Karajaal Kofoed, Denmark
2007 International Body Harmony Practitioner for Don MacFarland, Australia
2008 TCM Tounge-& Handdiagnostic Biyunskolan, Örbyhus, Sweden
2009 Raindrop technique Young Living etheric oils Vitaform, Surte, Sweden
2009-2010 Essence Training, Osho Risk Meditationcenter, Denmark
2011 Still Qi Gong instructor Biyunskolan Örbyhus Sweden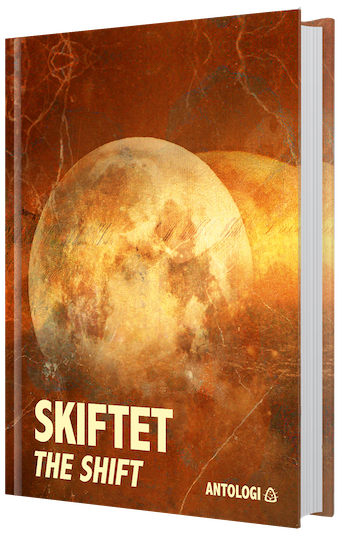 Skiftet
Antologi med kärleksfull och etisk kompass
Har vi kunnat ana vår djupare mening med livet, eller är vi fortfarande alldeles för blinda för att se våra möjligheter? Finns det högre syften med de världsomspännande förändringar som sker på jorden just nu? Det globala skiftet påverkar oss alla och får många av oss att tänka om och tänka bortom våra vanligaste tankemönster. Kanske finns det djupare principer som nu pockar på vår uppmärksamhet? Tänk om allting lättar om vi bara överlämnar oss åt vår inre, mer hjärtliga intelligens och dess outforskade sfär?
Tretton författare delar i denna antologi med sig av sina iakttagelser, erfarenheter, insikter och framtidshopp, efter, under och inför skiften i livet. Genom berättelserna får vi följa och lära känna uråldrig visdom, naturliga, inre egenskaper och framtida ljuspunkter, och se den nytta och glädje de tillför i dessa omtumlande tider. Författarna tar oss med på både vardagsnära och hisnande resor som kanske kan ge oss en vink om vilka vi är – under och efter ett skifte.
Medverkande författare: Aita Päts, Ana Kuni, Anette Andersson, Annika Andebark, Caroline Lifvenforth, Greta Bro, Lillemor Groth, Lina Lanestrand, Maria Gabriella Lücke, Nanna Aida Svendsen, Susanne Andersson, Ylva Wegler och Yvonne Frank Månsson. .
Cover artist: Linnea Frank
Beställ boken genom att skicka ett email till aita@naturligtvis.org med ditt namn och adress. Betalning 250 kr + porto 60 kr = 310 kr genom swish till 070 4244007.
---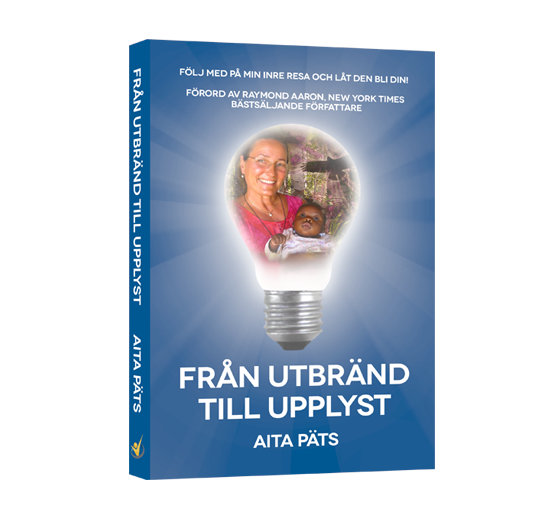 Från Utbränd Till Upplyst
Du kan även beställa boken direkt från Aita genom att skicka ett email till aita@naturligtvis.org med ditt namn och adress. Betalning 190 kr + porto 60 kr = 250 kr genom swish till 070 4244007.

Kontaktinformation
Aita Päts
Rydebacke 19
43895 Hällingsjö
Tel: 070-4244007
aita@DONOTINCLUDEaitapats.se