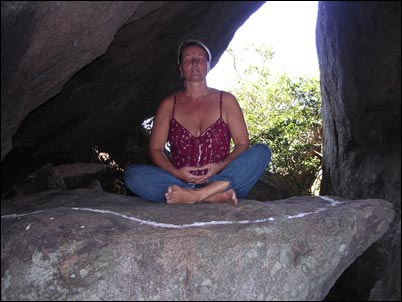 Meditation
Meditation is a way of being relaxed within oneself. Thoughts flow freely, come and go, and the mind is finally able to empty itself. The body attains a state of deep relaxation. With practice, contact with the 'inner self' can be re-established as we develop the technique of exploring our unconscious.
Meditation is not about some 'state', but about the meditator. It's not about some activity, or about fixing something, or accomplishing something. It's about ourselves!
Meditation promotes good health and stimulates that inner healing power which we all possess, but with which we have frequently lost contact.
There are different methods of meditation. Some can be active with more or less intense movements such as meditative dance, kundalini, dynamics, Qi Gong, Tai Chi etc. Other forms of meditation are less energetic, like ZaZen (sitting in the diamond position or on a stool), guided meditations whilst lying on the floor, various deep relaxation techniques, breathing meditations etc.
Meditation is a way of being in contact with one's self, the real inner self, and to increase the level of energy in the body.
Meditation is not intellectual, but beyond the mind and thought. The first step is to have a playful attitude to meditation, so the mind can't ruin it. It is a song to sing and a dance to dance! You are not striving to reach any goal, you just enjoy the moment. It is in relaxation the change is possible. The very small things in life can get a new meaning. You can fall in love with life!
In the past many humans lived a simple life with lots of 'emptiness' in the mind, which helped people to stay spiritually healthy. Today humans have to live with ongoing change, with the enormous pressures which daily life brings, and demands for rapid adjustment to modern society. Nowadays there is usually a lack of 'emptiness', if we fail to create that meditative space by and for ourselves.
Meditation is more important than ever in our modern life, allowing the mind to rest from the outer pressures and thereby avoiding a collapse of the organism itself. Meditation is a moment for no memories, no thoughts, no fantasies. Only to journey beyond the mind and thereby enabling release of our bodily reservoirs of energy. It offers the human the ability to re-enter 'reality' with a new freshness, a better capacity to learn and with more reverence in the heart.